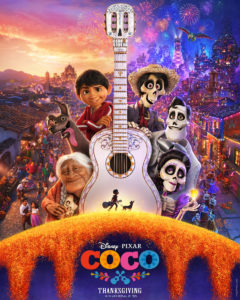 With a strong, five-day debut Disney and Pixar's Coco joined the ranks of the many successful films Disney has launched over the Thanksgiving holiday weekend. Receiving high marks from critics and audiences alike, the film finished atop the weekend box office and is looking at solid returns throughout the holiday season.
With an estimated $50.8 million for the three-day weekend and $72.9 million for the five-day, Disney and Pixar's Coco delivered the fourth largest Thanksgiving weekend three- and five-day openings. As a result, Disney continues to own nine of the ten largest three and five-day openings over the Thanksgiving holiday .
Coco's domestic opening is a hair over the 2010 opening for Disney Animation's Tangled, which went on to gross over $200 million domestically. The question is whether Coco, a non-Disney princess title, can have the same longevity as a film like Tangled or even last year's Thanksgiving hit, Moana, which opened with $82 million over the holiday five-day and went on to gross nearly $250 million domestically and nearly $650 million worldwide.
Looking into the future, one great stat is the "A+" CinemaScore the film received from opening day audiences, which broke down 53% female and 55% of all moviegoers were 25 years or under. To continue the Tangledcomparison, that film also received an "A+" and 61% of its opening weekend audience was female and 57% were under the age of 25. Next weekend will give us a strong indication as to how the film will play moving forward when you consider Tangled dipped 56% in its second weekend and Moana just 50%.