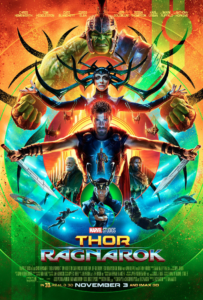 Coming to theaters November 3, 2017!
The critic's consensus is that Ragnarok is an  exciting, funny, and above all fun,  colorful cosmic adventure that sets a new standard for its franchise — and the rest of the Marvel Cinematic Universe.
In Marvel Studios' "Thor: Ragnarok," Thor is imprisoned on the other side of the universe without his mighty hammer and finds himself in a race against time to get back to Asgard to stop Ragnarok–the destruction of his homeworld and the end of Asgardian civilization–at the hands of an all-powerful new threat, the ruthless Hela. But first he must survive a deadly gladiatorial contest that pits him against his former ally and fellow Avenger–the Incredible Hulk!
Here are some of the reviews:
"Thor: Ragnarok" is the most fun of the Thor movies by a long shot, but it is still very much a Thor movie for better or worse. – Lindsey Bahr, Associated Press
It's the first Thor movie that will make you want to see more Thor movies, because it's the first Thor movie with an idea of what makes its titular hero worth rooting for. – Alex Abad-Santos, Vox
It's hammer time again and Thor Ragnarok rocks with laughter put the emphasis on the "comic" in comic book moviemaking. The cast is up to the challenge. – Pete Hammond, Deadline Hollywood
One of the boldest and most sensuous of the MCU releases… outrageously entertaining, sure to please all ages & turn Thor into a far more popular character with mainstream audiences – Mark Hughes, Forbes
Both the banter and the fighting, it should be noted, are excellent, so whether you go to superhero movies for the glossy escapism or the pulse-pounding action, you'll get your large soda's worth. Alonso Duralde, TheWrap
Even tonal issues can't upend the magic this movie taps into putting Thor and Hulk together as new best buddies, whether they're throwing down in an arena or having a bromantic heart-to-heart. – Brian Truitt, USA Today
This is top to bottom Hemsworth's movie, and in his fifth time playing Thor, is at his very peak, and that's quite the heroic feat. Kyle Anderson, The Nerdist
A film that's simply a joy to watch, with a personality that's wholly its own. – Bryan Bishop, The Verge
The best of the Thor features and impressively one of the better MCU offerings. – Eric Eisenberg, CinemaBlend.com
The film is directed with profligate pizzazz by iconoclastic New Zealander Taika Waititi who seems to hold two fingers up to the entire Marvel Cinematic Universe, even as he caresses it with delicate affection. – Kevin Maher, Times (UK)
Shot through with self-deprecating wit, slapstick (and knockabout) humour and all kinds of eccentric characters and elements, Thor: Ragnarok feels fresh, exciting and hugely entertaining. – Rob Carnevale, Indie (London)
Thor: Ragnarok is a lot of fun, but its heart belongs to Planet Hulk and not the realm whose existence is at stake. – Jim Vejvoda, IGN