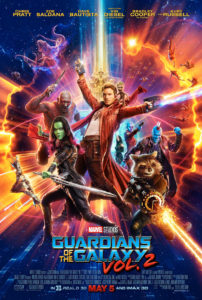 Accounting for over 79% of the cumulative top ten gross, Disney/Marvel's Guardians of the Galaxy Vol. 2 topped the domestic box office, showing a 54% increase compared to the 2014 original and giving Disney the top two openers of 2017 so far: Beauty and the Beast being the other. The sequel to the 2014 hit brought in an estimated  $145 million domestically and $425 million worldwide; topping that mark in just 13 days.
That makes it Marvel's fifteenth straight No. 1 opening at the domestic box office. The studio has never had a movie not open on top.
"Vol. 2" is Marvel Studios' fifth biggest opening — an impressive feat for a brand that has brought in more than $11 billion around the world during the last decade.
Helping matters further is the "A" CinemaScore, which is right in line with pretty much all MCU features, and don't be surprised to see that opening weekend total bump up a notch or two and perhaps finish right around $147 million. Audience demographics show the film playing to an audience that was 56% male vs. 44% female, and overall 22% of the audience as 25 years-old or younger and a whopping 72% of the audience were adults while only 9% were teenagers.
The Mouse House is looking to wrangle more box office accomplishments by the year's end.
Films like "Pirates of the Caribbean: Dead Men Tell No Tales," Pixar's "Cars 3," Marvel's "Thor: Ragnarok" and "Star Wars: The Last Jedi" are all still on deck.