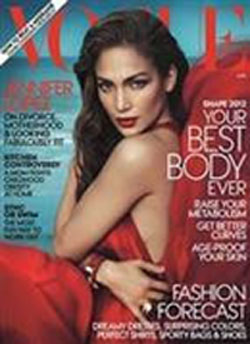 Vogue's 19 international editions will no longer feature photos of fashion models who "appear to have an eating disorder," the magazine's editors announced recently.
The Vogue editors said that beginning in June, editions in America, France, Britain and China, for starters, will no longer feature models with visible signs of eating disorders. It also suggested that fashion designers should stop creating "unrealistically" small samples that won't fit anyone who isn't ultra-thin.
"Vogue believes that good health is beautiful. Vogue editors around the world want the magazines to reflect their commitment to the health of the models who appear on the pages and the well-being of their readers," said Conde Nast International chairman Jonathan Newhouse in a statement.
If you are a cynical to believe that Vogue's promise is genuine, then you may view Vogue's move as grandstanding, trying to appease an audience that is getting ever more savvy and tired of the tricks of the trade.  Is it cynical to ask the question why the fashion magazine failed to talk about the practice of digitally altering photos, a widespread practice that promotes an impossible standard of beauty?  Will they start with a non ultra thin model (keeping their promise)  and  then Photoshop them into a disturbingly thin model?
Extremely thin girls have been the ideal in fashion for years — and this may be the most push-back against the super thin movement we've seen in a decade. So if you really are sick of it, Vogue editors, actually do something about it. Stop talking about it, stop drawing up toothless guidelines that fit into tidy press releases, and just prove it. Don't call in the tiny clothing samples for shoots. Don't hire girls who are so thin you wonder if they have eating disorders. Don't use Photoshop in the post production to digitally achieve that unrealistic thin look. Don't only shoot Adele from the neck up.
We all hope that Vogue's proposed new bold stance is genuine for Vogue has the power to make and break — whether its fashion trends, designers, models and yes, even industry practices. Others will follow.
More than 24 million Americans, both females and males, have an eating disorder. And eating disorders have the highest mortality rate of any mental illness, according to the National Association of Anorexia Nervosa and Associated Disorders.