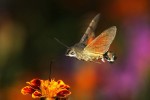 "Magnification ratio" is a technical term in photography. Such ratios are based on size comparisons between real-life subjects and how they are captured on film. Magnification ratios measure the degree in which these comparisons differ. Those falling between the range 1:1 and 4:1 (values to be identified shortly) are usually referred to as "macro photography," which simply means close-up photography. In reality, a magnification ratio — ungainly as it sounds — measures the photographer's desire to see the object as it truly is.
Identification
A magnification ratio of 1:1, or life-sized, means that a subject that is 1 inch long in real life will also measure 1 inch on film, whereas a 2:1 ratio means that the subject captured will appear twice its size. The numerical sequence moving from life-size to smaller and smaller increments is therefore expressed as 1:1, 1:2, 1:3, 1:4, and so on. Inversely, a magnification ratio of 2:1 or 3:1 means that the subject on film will appear twice or three times its original size.
Significance
In close-up photography, the magnification ratio determines the level of detail revealed in the shot. As one moves closer to the subject, the total area recorded decreases, therefore magnifying the level of detail seen. Most 35mm and 50mm lenses can capture a subject at 1:2 magnification.
Effects
This works well for small paintings, snapshots, small product work, flowers, and cropped portraits, among other natural objects. Nonetheless, many lenses will require a close-up accessory such as an extension tube, which fits between the camera and the lens, to zoom in beyond a 1:4 ratio
Check the specifications of your lens to find it's magnification ratio.